Have you written a book in English and would now like to have it translated into German for publication on the German market?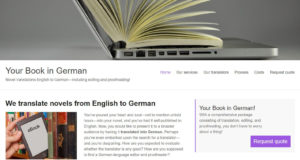 ---
For novel translations from English into German, I have created a separate website, which you can find at www.yourbookingerman.com.
---
Together with my team from Your book in German, we translate novels from English into German—always in a package with editing and proofreading. This way you can sit back and relax, not having to worry about anything, and you will receive your book in German on time at the agreed deadline.
All our translators are experienced in the field of literary translation and have already translated several books from English into German. Translating books is an art that not everyone can master; just as not everyone can write a book who has a good idea for a plot. Just as you, the author, have previously tweaked your English book, always searching for the perfect wording, we will work on your German book. In the process, we preserve your style and create a work in German that will captivate the German reader as much as the reader of your original.
After translation, the book goes to the editor. The editor reads the book as a reader will, smooths out the style, marks places they stumble over, phrases sentences "more German" if necessary, and of course checks against the original to make sure the same feeling is really conveyed.
After editing, I will send the German version of your book back to the translator who will incorporate the changes.
In the final step, the German manuscript is sent to proofreading. In this process, all typos, no matter how human, are eliminated.
In this way, you will receive a German version of your book that has been checked several times and that you can publish without hesitation and without having to fear spiteful reviews. And all the while, you don't have to worry about a thing, because I take care of all the organization—hiring the right translator, editor, and proofreader!
For these book translations from English into German, I will either do the translation or the editing or the proofreading— depending on the genre and capacities. In any case, I will work on your book in German myself.
Would you like to have your novel translated from English into German? Then please send it in an editable format, if possible, to quote@miriam-neidhardt.de and I will get back to you with a quote.