I am more than happy to trans­late your self-published novels from English into Ger­man. A list of the books I have alre­ady trans­la­ted can be found under References -> Books.
But there's more to trans­la­ting a novel than "just" the trans­la­tion.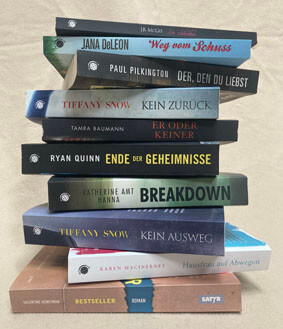 Just like a book written in the original language, a translated novel must then be edited and proofread.
As a university-educated translator with ten years' experience in the field of literary translation and more than fifteen translated books, I offer you more than merely the translation of your novel from English into German—I also have my translations independently edited and proofread.
In the editing process, the style is polished. Two sets of eyes always perceive more than one, and an editor less familiar with the text than the translator will always find room for improvement, even in the best translation.
In the proofreading process, a third person ensures that all typographical and spelling errors that invariably occur in a text are eliminated—errors that the translator and editor might have still missed after the second read-through of the entire book.
I never release a text without completion of both these steps—editing and proofreading—performed by two different professionals! That way, you can be assured of receiving a German version of your book that you can publish without hesitation.
---
Please read my blog with tips for self-publishing authors:
Translating for self-publishers: tips for authors
Translating for self-publishers: how I proceed
How the costs of a literary translation calculated?
---
And what does this cost you?
While I cannot furnish a generalized answer to this question without having first viewed the text, you can expect to pay approx. 25 Euro* per page (1,500 characters).
Under German law, copyright in the translated book automatically belongs to the translator. This copyright cannot be transferred! Copyright means that the translator must be named on the third page of the book, underneath the title, and on all internet sites. Once the invoice is fully paid, you will receive the sole right of use: in other words, you may publish the text in any format you wish. No royalties will be due.
Test me!
If you want to first get an idea about my work, I offer sample translation and editing of one page (max. 2,000 characters) for just 50 Euro* (prepayment). If you then retain me to translate the entire work, the 50 Euro will be credited to you as a down payment.
*Value-added tax (VAT) in the amount of 7% is charged for translations of novels. No VAT is owed (1) if the billing address is not in the EU or (2) if the billing address is in the EU (but outside Germany) and you have a VAT ID number. For billing addresses in Germany, VAT always applies and you must make additional payments to the German artists' social insurance system (the Künstlersozialkasse).