I am more than happy to trans­late your self-published novels from English into Ger­man. A list of the books I have alre­ady trans­la­ted can be found under "Books".
But there's more to trans­la­ting a novel than "just" the trans­la­tion.
---
Please read my blog with tips for self-publishing authors:
Translating for self-publishers: tips for authors
Translating for self-publishers: how I proceed
How the costs of a literary translation calculated?
---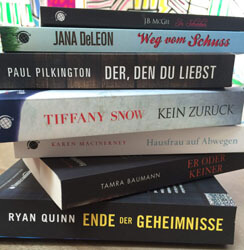 All aut­hors wri­t­ing a new book are requi­red to sub­mit their finis­hed text for edit­ing and proo­frea­ding, and this is no dif­fe­rent when it comes to trans­la­ting novels.
The edit­ing pro­cess polis­hes the style. Four eyes will always see bet­ter than two, and an edi­tor who is not as pain­fully fami­liar with the source text as the trans­la­tor can always find room for impro­ve­ment, even in the best translations.
During the proo­frea­ding pro­cess, a third per­son reads the novel with a view to eli­mi­na­ting all typos and spel­ling errors. These are a natu­ral occur­rence in every book, but once the trans­la­tor and edi­tor have read the ent­ire text through a couple of times, they become so used to it that they fail to spot the typo­gra­phi­cal errors.
To ensure that none of my book trans­la­ti­ons from English into Ger­man are ever publis­hed wit­hout having under­gone both of these pro­ces­ses (the result could other­wise damage my repu­ta­tion), I pro­vide all three ser­vices – trans­la­tion, edit­ing and proo­frea­ding – as a sin­gle package. This means peace of mind for you, as all you have to do is com­mis­sion the trans­la­tion and wait for your print-ready ver­sion to arrive.
So how much will it cost you?
It is not, of course, pos­si­ble to give a gene­ral ans­wer before having seen the text. Howe­ver, a good rule of thumb is to assume a cost of approx. 25 euros per stan­dard page (1,500 cha­rac­ters incl. spaces), plus sta­tutory VAT.
What about fur­ther ser­vices? Again, I am more than happy to offer pro­fes­sio­nal type­set­ting ser­vices for both prin­ted and elec­tro­nic texts. I even have access to a pool of pro­fes­sio­nal desi­gners so that I can find someone to create the per­fect cover for your book.
It goes wit­hout say­ing that the names of the trans­la­tor, edi­tor, proo­fre­a­der, type­set­ter, and cover desi­gner will be lis­ted in the book; all these points, as well as the issue of royal­ties, will be cla­ri­fied in a contract.
Too expen­sive?
OK, so you'd pre­fer to keep things cheap? Well, have you ever read the reviews of badly trans­la­ted books on Ama­zon and other por­tals? Do you really want to take that risk? A poten­ti­ally reputation-ruining risk? A novel does not live by its plot alone – the nar­ra­tive ele­ment is equally import­ant, regard­less of the lan­guage used. You no doubt know how dif­fi­cult it can be to find just the right way of say­ing some­thing. So don't skimp on the trans­la­tion. Remem­ber that a good trans­la­tion will lead to much hig­her sales than a bad one, so in that respect, you will quickly be able to reco­ver the hig­her costs of a good translation.