I am more than happy to trans­late your self-published novels from English into Ger­man. A list of the books I have alre­ady trans­la­ted can be found under "Books".
But there's more to trans­la­ting a novel than "just" the trans­la­tion.
---
Please read my blog with tips for self-publishing authors:
Translating for self-publishers: tips for authors
Translating for self-publishers: how I proceed
How the costs of a literary translation calculated?
---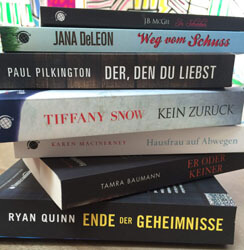 You have put endless time and heart and soul into writing your novel, published it in English as a self-publisher, and now want to have it translated into German to make it accessible to a wider audience? Maybe you have even already started looking for a translator and noticed that finding the right person is everything but easy. How are you supposed to judge whether the translator is any good? How are you supposed to find an editor and a proofreader of German?
I offer English to German translations of novels always a package with editing and proofreading. The translation is done by me and editing and proofreading of my translation are made by two different providers. This means peace of mind for you, as all you have to do is com­mis­sion the trans­la­tion and wait for your print-ready ver­sion to arrive.
Because just like a book written in the original language, a translated novel must be edited and proofread.
The edit­ing pro­cess polis­hes the style. Four eyes will always see bet­ter than two, and an edi­tor who is not as pain­fully fami­liar with the source text as the trans­la­tor can always find room for impro­ve­ment, even in the best translations.
During the proo­frea­ding pro­cess, a third per­son reads the novel with a view to eli­mi­na­ting all typos and spel­ling errors. These are a natu­ral occur­rence in every book, but once the trans­la­tor and edi­tor have read the ent­ire text through a couple of times, they become so used to it that they fail to spot the typo­gra­phi­cal errors.
How much does it cost to translate a book into German?
Translations of novels are charged per page and I pro­vide this service as a sin­gle package with editing and proofreading.
You can expect to pay approx. € 25.00* per page (1,500 characters) or 0.10 USD per word for the bundle of translation, editing, and proofreading (plus statutory German VAT*). Editing and proofreading are done by two different providers, whom I assign accordingly.
According to German law, the translator keeps the copyright for their literary translation. This means that they have to be listed in the book and on all product pages. As a matter of course, you as the author of the original book and my client will receive full exploitation rights upon payment of the final invoice.
*Book translations incur German VAT at a rate of 7%; copyright remains with me as the translator. No VAT is due if your invoicing address is outside of the EU or if it is within the EU AND you have a VAT ID number.